Ties n Cuffs tie design Tool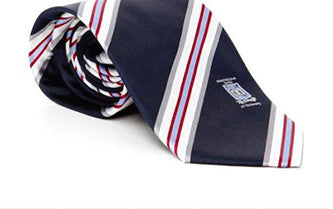 You can now design your own patterned tie; for example a set of uniform patterned tie for your staff. What you need to do is simply upload your artwork or designs and add in any special items of interest you would like at the special instruction box. Ties n Cuffs will then provide you with a design proof before moving ahead to produce the ties. Ties n Cuffs also provides a wide selection of logos and pictures for you to choose from. The wide selection of personalized designs are clearly tailored to suit your needs; however, when you order these personalized ties allow at least 4 weeks of production. Customers can also request a free first hand online mock-up prototype that contains the logo. Some of the most popular custom designed ties include patterned ties, corporate woven ties and personalised logo ties.

Customers can easily choose the design and tie colour for their custom tie using the enhanced online design tool. Some of the most popular color designs combine at least three colors. The color pallet provided, offers an array of shades for each of the selected color combinations. Once you have selected your custom tie design and color you can check to preview the appearance of your tie. The next process is choosing the logo you want printed or attached to your tie. The design tool allows you to browse through your file system to select your desired logo. After the final preview, you can submit your selection by submitting it through. However, before submitting your form, you have to enter your name, desired quantity, email and the comments you would like to advance, you also have to agree to the company's Terms and conditions. While filling your form, you can also choose to share your design ideas on the Facebook link.